Lynn S. Swigart was born in Kansas City, Missouri, in 1930. He spent his youth in Clinton, Illinois, and graduated from Bradley University in Peoria, Illinois in 1952 with a B.S. in psychology. Swigart lived in Gloucester, Massachusetts, from 1994 to 2017 and currently resides nearby in Ipswich, Massachusetts. His fine art photography is represented by Trident Gallery in Gloucester.
He worked as a professional photographer from 1951 to 1953, and since that time has worked independently. He has studied with Gus Kayafas, Minor White, and George Tice. During the summers of 1973 and 1974 he taught photography at the Multimedia Arts Institute at Bradley University.
Swigart worked for Caterpillar Inc. from 1953 to 1988, his last position being manager of Communications Services. He served on the Arts Committee of the Illinois Arts Council. From 1988 to 1994, he was president of WYD Design Inc. of Westport, Connecticut. He served on the Board of Directors of the Westport Art Center.
solo exhibitions | group exhibitions | publications | permanent collections
Selected solo exhibitions
Lynn Swigart: Favorites, Trident Gallery, Gloucester MA, 2014
Peoria Past, Peoria Historical Society Collection, Peoria Art Guild, Peoria IL, 2008
Visual Poetry: Photographs by Lynn Swigart, Cape Ann Museum, Gloucester MA, 2005
Winter Beaches, Cape Ann Museum, Gloucester MA, 2004
Side Street Gallery, Gloucester MA, 2001
Spazio Gallery, Austin TX, 2000
A.D.D. Gallery, Hudson NY, 1999
Wenniger Gallery, Rockport MA, 1995 and 1997
Peoria Art Guild, Peoria IL, 1985
Black Hawk College, Kewanee IL, 1983
Hartmann Gallery, Bradley University, Peoria IL, 1983
Illinois Department of Transportation Gallery, Springfield IL, 1981
Cape Ann Museum, Gloucester MA, 1980
Lakeview Museum, Peoria IL, 1980
Louisiana State University, Baton Rouge LA, 1980
Tower Park Gallery, Peoria IL, 1979
Lake Erie College, Painesville OH, 1979
Illinois State Museum, Springfield IL, 1978
Charles Olson Festival, University of Iowa, Iowa City IA, 1978
Cantor Arts Center, Stanford University, Palo Alto CA, 1978
Peoria Art Guild, Peoria IL, 1978
William Benton Museum of Art, University of Connecticut, Storrs CT, 1977
Hartman Art Center, Bradley University, Peoria IL, 1977
Pekin Public Library, Pekin IL, 1975
East Street Gallery, Grinnell IA, 1975
Knox College, Galesburg IL, 1974
Enjay Gallery, Boston MA, 1974
Corn Stock Theater, Peoria IL, 1973 and 1974
Bradley University, Peoria IL, 1974
Zone V Gallery, Watertown MA, 1973
Lakeview Museum, Peoria MA, 1971
Caterpillar Technical Center, Mossville IL, 1971 and 1974
Caterpillar Administration Building, Peoria IL, 1970
Selected group exhibitions
Trident Gallery, Gloucester MA, 2013–2018
Document, Flatrocks Gallery, Gloucester MA, 2013
The Rule of Four, Cape Ann Museum, Gloucester MA, 2012
On and Of Paper, Illinois State Museum, Chicago IL, 2010
Seven Palm Press Portfolios, Gallery Kayafas, Boston MA, 2009
Weather, Rocky Neck Art Colony National Juried Show, 2007. First Prize.
Environments…A Sense of Place, Rocky Neck Art Colony National Juried Show, 2006
Inhibition, Juried Exhibition, Rocky Neck Art Colony, Gloucester MA, 2005
Ocean Views, Montserrat College of Art, Beverly MA, 2004
Chairs, Oasis Gallery, Gloucester MA, 2003
Members' Exhibition, Westport Arts Center, Westport CT, 1991–1993
Illinois Photographers '85, Illinois State Museum, Springfield IL, 1985
Sister City Arts Exhibition, Peoria IL and Friedrichshafen, West Germany, 1984–1985
Photo Image '82, Springfield IL, 1982
Camera Movements, Moore College of Art, Philadelphia PA, 1982
Great Lakes Regional Art Exhibit, Chagrin Falls OH, 1982
Arts Works National Photography Exhibit, Brattleboro VT, 1982
Illinois Photographers '82, Illinois State Museum, Springfield IL, 1982
Twelfth Biennial Michigana Regional, Art Center Inc., South Bend IN, 1982
Art Institute, Chicago IL, 1978
Two-man Exhibition, Mitchell Museum, Mount Vernon IL, 1976
Radius 76, Burpee Art Museum, Rockford IL, 1976
Illinois Landscape Art, 1830–1975, Lakeview Museum, Peoria IL, 1976
Ten by Ten, Galesburg Art Center, Galesburg IL, 1976
Pennsylvania State University, 1975
Erie Art Center, Erie PA, 1975
Lakeview Museum (now Peoria Riverfront Museum), Peoria IL, 1974
Limited Image Gallery, Chicago IL, 1972
Peoria Art Guild, Peoria IL, 1971–1973
Publications
Olson's Gloucester: Photographs by Lynn Swigart, 72pp, Louisiana State University Press, 1980
"Half Moon Beach," book jacket for The Maximus Poems of Charles Olson, George Butterick, 1978
Photographs from "Tanks and Shiny Things Series," Fifth Wednesday Journal, Spring 2008, Issue 2
Lynn Swigart Portfolio, Palm Press Photographic Atelier, 2005
Cover image, For Love of the World: Essays by Nature Writers, Sherman Paul, University of Iowa Press, 1992
"Photographs by Lynn Swigart," North Dakota Quarterly, 1985, pp 63–68
"Manitoulin Island," cover image, North Dakota Quarterly, 1984
Book cover for The Denny Poems/1983, Spoon River Poetry Press, 1983
The Best of Photography Annual, 1982
"Portrait of Robert Coover," book jacket for Spanking the Maid, Robert Coover, 1982
"Wingaersheek Beach," book cover for The Iowa Review 11:4, 1980
Front and back covers, The Coal Miners, James Ballowe, Spoon River Press, 1979
"A Photographic Essay," Boundary 2: A Journal of Postmodern Literature 5:1, cover through page 13, 1976
The Bradley Review, Bradley University, 1975
Cottonwood Review, University of Kansas
"Portrait of Robert Coover," book jacket for The Origin of the Brunists, Robert Coover, 1966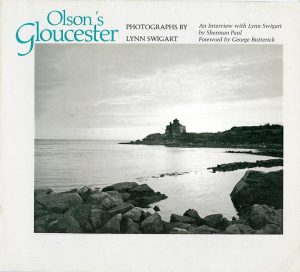 AbeBooks.com | Alibris.com | Amazon.com
Permanent Collections
Cape Ann Museum, Gloucester MA (home of the Lynn Swigart Photographic Archive)
Carpenter Center for the Visual Arts, Harvard University, Boston MA
Illinois State Museum, Springfield IL
Illinois Department of Transportation Building, Springfield IL
Peoria Art Guild, Peoria IL
Peoria Riverfront Museum, Peoria IL
The Petry Collection, Illinois
Stanford University Museum, Palo Alto CA